Fitness Marketing Timesaver # 5: Efficiency
Fitness Marketing Tip by Pat Rigsby
I'm back again this time with fitness marketing timesaver #5.
With the number of moving parts as we have within our businesses, Pat, Jim and I have learned over time that efficiency is paramount.
It's important to set and meet deadlines, in order to make sure you don't turn 20 minute tasks into hour-long ones, one day jobs into two, or two days into a week to get something completed.
What we realized with the MM group we met with in Boise is that while normally someone may take 3 or more days to complete a one-day job, the other guys in our MM Group were getting it done in a half day.
That explains partially why they are making the money they are making.
And it's not as much through skill or financial means that they move at 'light-speed', it's mostly initiative and efficiency.
Here's something for you to think about that may help you to improve your fitness business efficiency.
I've learned that in the online world, for several reasons, people are usually available around the clock, 7 days a week.
Offline, most people I deal with are 8 to 5, and then headed home.
So I've learned to prioritize things so if I need something completed for someone who is out the door at 5 – I make sure they get it in plenty of time to get it back to me that day.
Simply put – I don't get it to them at 4:30 so they can put it off until tomorrow, when they'll show up in a daze and not actually get any work done until 10:30 or so – and I'm still waiting.
THAT is a prime example of turning 1 day into 2.
Another means of making yourself inefficient are all of the small time wasters we can find ourselves doing when we turn a 5 minute task into 20 minutes, or a 20 minute task into an hour long.
Opening the mail, checking voicemails or text messages, surfing the net, reading the news, etc.
Not to say those things aren't important, but it doesn't need to be done WHILE you are trying to focus on another task.
Do those things before or after, not during.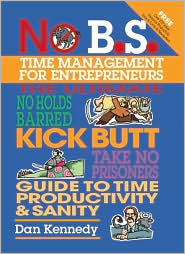 Read Dan Kennedy's No BS Time Management.
Dan is over the top, as always, but that's exactly what I needed, and still do sometimes.
That book helped me to understand that 5 minutes should mean 5 minutes, 2 o'clock should mean 2 o'clock, and today means today.
That alone has taken me to another level of productivity, and it can help anyone else as well.
If you have other time management practices, tools or literature, please let us know below!